Movie lovers sometimes cling to the soundtracks of their favourite movies and have to surf the internet for them, but the curtain has been drawn to such search. In a significant move that is seen to rival the synchronization of Apple TV+ and Apple Music, Netflix and Spotify have launched an all-new Netflix Hub on Spotify where fans of Movies and TV shows on the Netflix platform can easily find the soundtrack to their favourite movies and shows.
This collaboration heralds a new era as the Netflix Hub will be a one-stop destination for official soundtracks, playlists, and podcasts related to Netflix shows, along with exclusive Spotify content, as the shows and movies will have their dedicated sub-category on Netflix Hub on Spotify. This mirrors the move made by Apple when they launched their Apple TV by providing the soundtrack to most of their movie production exclusively on Apple Music.
About the Deal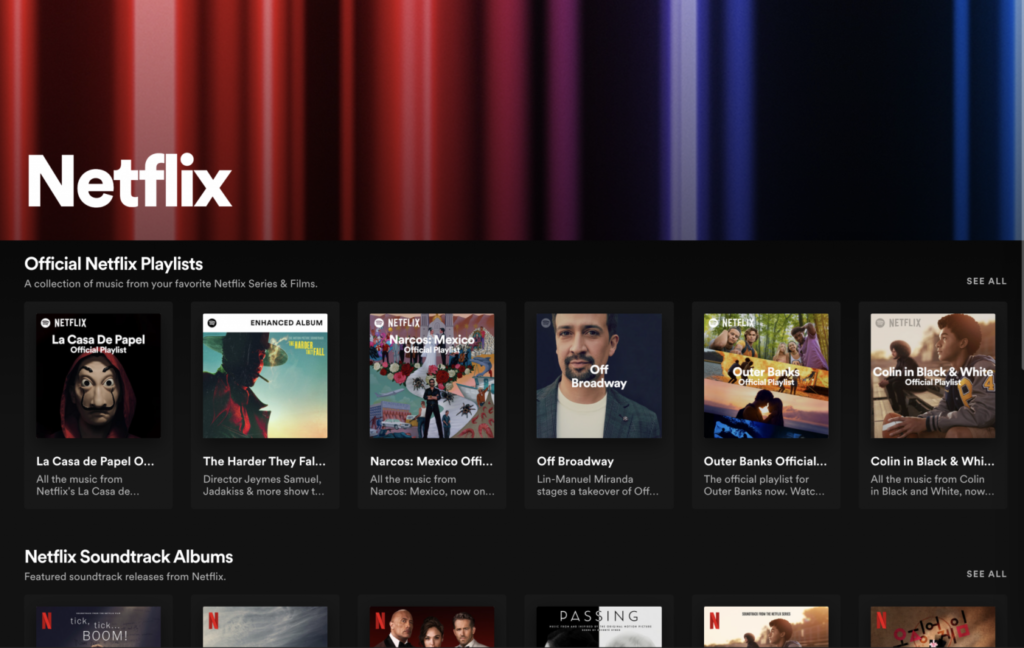 According to Spotify, the hub is currently available to free and Premium listeners in the U.S., Canada, Australia, New Zealand, the U.K., Ireland, and India, and by simply searching "Netflix" on Spotify, they can find and sing along to music their favourite Netflix shows.
Also, part of the rollout on the Netflix Hub is an enhanced album for the Netflix Western Western film, The Harder They Fall, which offers fans a behind-the-scenes look at the creation of the soundtrack led by Jay-Z. And the collaboration doesn't stop there. In honour of the second part of the final season of La Casa De Papel (Money Heist), Spotify has refreshed the La Casa De Papel destination. There, you'll find new videos from the cast and the show's official playlist featuring tracks from the latest episodes. Dedicated fans can also take their connection with the show a step further with a quiz sure to steal your heart. Take the Character Match Playlist quiz to find out your perfect La Banda character and soundtrack match.
Within the hub, fans will have easy access to official playlists for buzzy TV hits like La Casa de Papel (Money Heist), Bridgerton, and On My Block, as well as the official soundtrack for shows like Squid Game, Bruised, and Cowboy Bebop. Creators are also here to explore the shows and movies you can't stop talking about on Netflix-related podcasts like Okay, Now Listen, Netflix Is A Daily Joke, 10/10 (Would Recommend), and The Crown: The Official Podcast.
This collaboration is a significant collaboration between digital streaming platforms, and it hoped that the feature would be accessible to other parts of the world in no time.